Cordon Vert is an importer specialized in wines, liquors and food. It is jointly owned by Aeon, one of the biggest retail groups in Japan, and Yamaya, the domestic top wine and liquor retailer. With wines at its core, we also resource liquors and food from all over the world for our Partners, Aeon and Yamaya.
Aeon, with its "customer first"policy and flexibility, swiftly adapts itself to the ever-changing environment and customers' needs. AEON has a long-term vision and is continuously on the look-out for innovations, this is one of the reasons for its continuous growth making them a leading retail group not only in Japan but in all Asia.
As for Yamaya, its corporate philosophy has always been "to contribute to the community by streamlining distribution system and sales chain to achieve what we call a "richer consumer life". In accordance with this philosophy, its core business has been retailing wines, liquors as well as other foods and beverages. Nowadays, Yamaya is recognized in Japan as a pioneer, both as an importer and a retailer due to its unique (at the time) vertically integrated business model.


Product Categories
WINE

BEER

OTHER LIQUORS

BEVERAGES

FOODS

REFRIGERATED FOOD
Distribution Network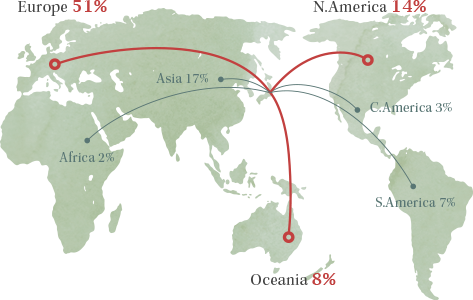 Company Profile
Company name
Cordon Vert Co., Ltd.
Establishment
July 14, 2006
Business
Import business of alcoholic beverages and food
Location

Tokyo Head Office;
Teito Kanda Building 4F, 1, 1-chome, Kandanishiki-cho, Chiyoda-ku, Tokyo, 101-0054 JAPAN

Sendai Office;
Sompo Japan Building 10F, 3-7-35, Tsutsujigaoka, Miyagino-ku, Sendai-city, Miyagi, 983-0852 JAPAN
Directors
Chairman of the Board
Eiji Shibata
President
Hiroaki Yamauchi
Senior Managing Director
Takashi Fukui
Board of Directors
Hidefusa Yamauchi(Chairman of YaMaYa Corporation),
Toshio Iwatsuki, Tsuneo Suzuki,Hiroaki Sato?
Capital
\490 million (Shareholders AEON Co.,Ltd 51%, YaMaYa Corporation 49%)
IR
Main client